Missoula Rural Fire Department improves ISO rating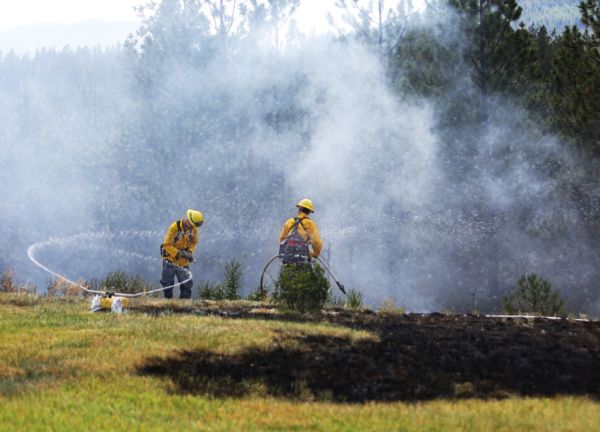 Missoula Rural Fire Department firefighters damp out the remains of a fire on the top of Horseback Ridge in 2016.
Good news for homeowners in Missoula County: they may be eligible for lower property insurance costs because of the Missoula Rural Fire District's improved protection rating.
The public protection classification (PPC) collects information on municipal fire protection in cities throughout the United States. Ratings are given on a scale of 1 to 10, with 1 representing "exemplary public protection."
A multitude of things go into the rating, including staffing, training programs and water supply, among other things, according to MRFD Fire Chief Chris Newman.
A property's distance from a fire station also goes into the rating. Any property within 5 road miles of a fire station will now have a PPC rating of 4. Properties beyond 5 road miles from a fire station are automatically given a 10.
"We were fortunate enough to be able to go through a re-rate with the regional person with the Insurance Services Office," Newman said. "We did a lot of things working towards the goal of improving this ISO rating and then we got the good news as of Feb. 1."
More than 10,000 "address points" within the MRFD jurisdiction are positively affected by the new rating, although there may not be a structure at every point. More than 40,000 people fall within the coverage area.
Newman said that water capabilities and record-keeping have gotten a lot better, and that the department has added programs that not only would help customers but also meet requirements set by the Insurance Services Office (ISO).
Although a property may have a 10 rating, it doesn't affect the services provided by the fire department.
"We don't have any control over that part, it's strictly an ISO rule," Newman said. "When people live further out, there's just certain things that go along with that. We have properties that are 10, 12 miles from the nearest fire station and we're still sending a full complement of what we'd send to a structure fire."
Most insurance companies use PPC information in deciding what coverage to offer, or prices for personal and commercial property insurance.
Missoula Allstate Insurance agent Randy Mitchell said the insurance industry uses a database for fire departments nationally and the classification captures almost everything they need to know on that end.
"All that is assessed on how risk is measured on insuring a home," Mitchell said. "If it takes 15 minutes for the fire department to respond compared to 5 minutes, that's a risk that's considered and all that boils out eventually to what the premium is."
There are five MRFD stations in and around Missoula as well as mutual aid stations in Clinton, Florence and elsewhere.
The MRFD is not sending out individual letters to homeowners or insurance companies, as the information is available online.
- From the Missoulian