Morning fire damages Milltown home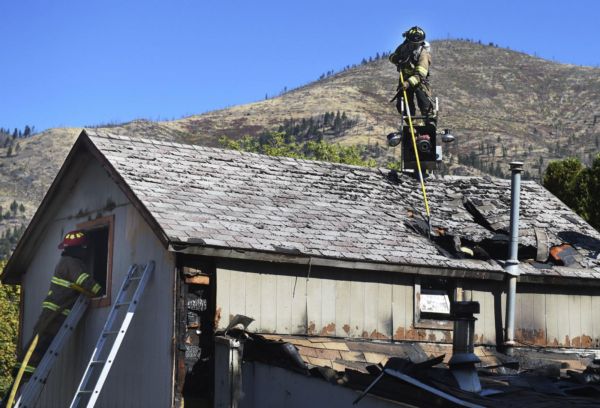 Missoula Rural Firefighters work to extinguish hot spots on a house fire behind the former Harold's Club in Milltown on Friday.
MILLTOWN —Firefighters quenched a challenging fire in a 113-year-old home Friday morning but couldn't save five pets.
Ron Lubke, captain and fire investigator for the Missoula Rural Fire District, said the residents of the home on Daytona Loop were at work when the fire broke out.
Lost were two dogs, two cats and a pet bird.
Investigators from Missoula Rural determined the blaze was accidental and stemmed from combustibles being left on the stove top. They estimated structural damage at $60,000 and personal property loss at $10,000.
The fire was restricted mainly to the walls, ceiling and attic. It didn't reach a neighboring home 10 feet away. Lubke said while furniture and other contents in the house sustained smoke and water damage, much of it should be salvageable.
A release Friday evening from Missoula Rural Fire Chief Chris Newman said $200,000 of property was saved, including the neighboring home, numerous sheds and vehicles, and a recreational vehicle.
The fire was reported at 8:23 a.m. and the first fire engine to arrive found heavy smoke billowing from the home. Firefighters broke in to search for occupants but found no one home.
Missoula Rural fire was assisted by East Missoula and Clinton fire, Missoula County deputies and Northwestern Energy. The fire was pronounced out by noon.
The aging two-story house is on a corner of Daytona Loop overlooking Interstate 90. It was the fifth home to be damaged or destroyed by fire in Milltown in the past five years. It's across the street and down the block from a fire in the spring of 2013 in which two homes and a shed were destroyed. Fires in January and October 2015 claimed homes north of the railroad tracks on Anaconda Avenue and Lancer Lane, respectively.
Missoula Rural Fire Chief Chris Newman said firefighters encountered problems posed by additions to the house that left a number of nooks and crannies for the fire to creep through. The void spaces proved difficult to get a complete knockdown, he said.
Milltown is west of the company town of Bonner, on the east bank of the Blackfoot River. It's divided by U.S. Highway 200 and the Montana Rail Link tracks. Most of its homes date back 100 years or more.
Sen. William A. Clark, the Butte copper baron, bought the town site for $20,000 in 1904 to lay the groundwork for a power dam and his Western Lumber Co. mill on the west side of the Blackfoot. He divided the town into lots 35 feet to 130 feet and leased them to homebuilders for $1.25 per month according to "A Grass Roots Tribute: The Story of Bonner, Montana."
Many of the current homes were built in the years following Clark's purchase. They tend to be close together, with limited parking space and low-hanging power lines.
"A lot of those homes being older, there are access issues that hamper our ability to get our ladder truck in there to assist with vertical ventilation," Newman said.
Compounding the problem is a hydrant system capable of producing a couple hundred gallons of water a minute, far short of the 1,000-gallon standard.
"It's a very, very old system. For a different situation, a couple hundred gallons seems like a fair amount of water," Newman said. "We're sometimes flowing easily in excess of 400, 500, 600 gallons a minute on initial lockdown. Most engines are carrying 750 gallons on board. As you can imagine it goes down quickly."
Lubke said one engine was able to tap into a well in the neighborhood but, as happened in the 2013 fire, water tenders crossed and re-crossed Highway 200 near the former Milltown Market to reload at a better one.
https://missoulian.com/news/local/morning-fire-damages-another-milltown-home/article_de3f5e6c-bd8d-519c-b70d-d5993cda0f5d.html